Developed for Georgia Institute of Technology academic staff, A.D.E.P.T. is an interactive tool that allows learners to become aware of biases and procedural issues regarding university promotion and tenure. The two user groups targeted in design development were Promotion & Tenure committee members and Promotion & Tenure candidates.
The tool leverages a vast knowledge base of research on biases and procedural issues in promotion and tenure at universities. Four modules deliver all this information. But through different combinations of user groups and environments, each module customizes the learning experience whereby learners are more apt to synthesize the information.
My role in the development of this educational software consisted of interaction design, information design and graphic design. Additionally, I maintained the online collaborative workspace, the ADEPT swiki, that documents process and design decisions. I also designed and implemented two preliminary websites — one for the ADEPT project for accessing the tools, and the library that allows learners to access the research independently of the interactive modules.
---
INTERACTION design — I completed a user analysis that included tasks, environment, the bigger context and demographics. Scenarios were markedly different for different users. Thus, four modules emerged that addressed combinations of user interactions (tasks) and environments:
candidates and committee members in an informal setting (Annotated Vitae, or Coffee Chat)
candidates in real-world settings (Navigating Your Career)
committe members in a formal setting (Simulated Meeting)
individuals in a private setting (Cases & Questions)
The modules were designed using an iterative process beginning with providing essential access to research, and resulting in interactions with believable storytelling and a strong sense of agency (i.e., opportunities for users to affect a change in outcomes).
INFORMATION design included leveraging a large volume of scholarly research and presenting it in various exploratory scenarios for the different audiences. The primary design challenge was in presenting discrete data in dynamic but correct syntactical form (i.e., creating nuanced conversation for believable storytelling). A secondary challenge emerged: developing a "branching" format tool for translating data from the research into conversational segments. An online library for accessing the information outside of the four modules was designed:
GRAPHIC design included animating characters with inoffensively-depicted varying demographic and ethnographic backgrounds to facilitate opportunities for self-identification. Formatting and testing tools for creating animations and a branching storyline was developed.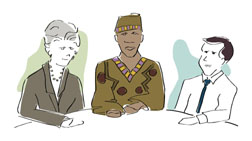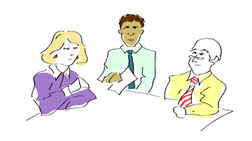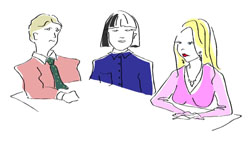 Simulated Meeting (SM) animation testing tool:

Navigating Your Career (NYC) animation testing tool: